If you have read our business trends 2021 forecast, you'd know that remote work will remain for most companies and consumers alike. Maybe your company has had the whole 2020 to figure out what remote working tools work best, but we bet that our tool list can still surprise you. Especially because they are free and provide the best value out there even when compared to paid tools.
In order to improve productivity, there are certain conditions that your teams need, such as responsive communication, face-to-face collaboration, knowledge sharing, honest feedback and strong bonding relationships. Our free communication tool list are divided into three categories that will help you fulfill your needs:
Messaging and video conferencing tools: instant messaging, host meetings, get quick updates, face-to face communication, and overall task management.
Screen recording tools: save team's knowledge, host training sessions, or make product demos.
Team building tools: maintain employee relationships, encourage engagement between teams, and have fun with your colleagues!
Note that the tools we're about to review are free, but they all have upgraded plans with more advanced features so you can scale up your business.
Messaging and video conferencing
We present to you 6 most popular and free applications with clear descriptions of the features, advantages, and disadvantages, so you know which tool is the right one for your team. Our tool picks include Slack, Discord, Google Chat & Meet, Microsoft Teams, and Zoom. You might have heard of these tools, but do you know the full benefits that you can get out of them?
Slack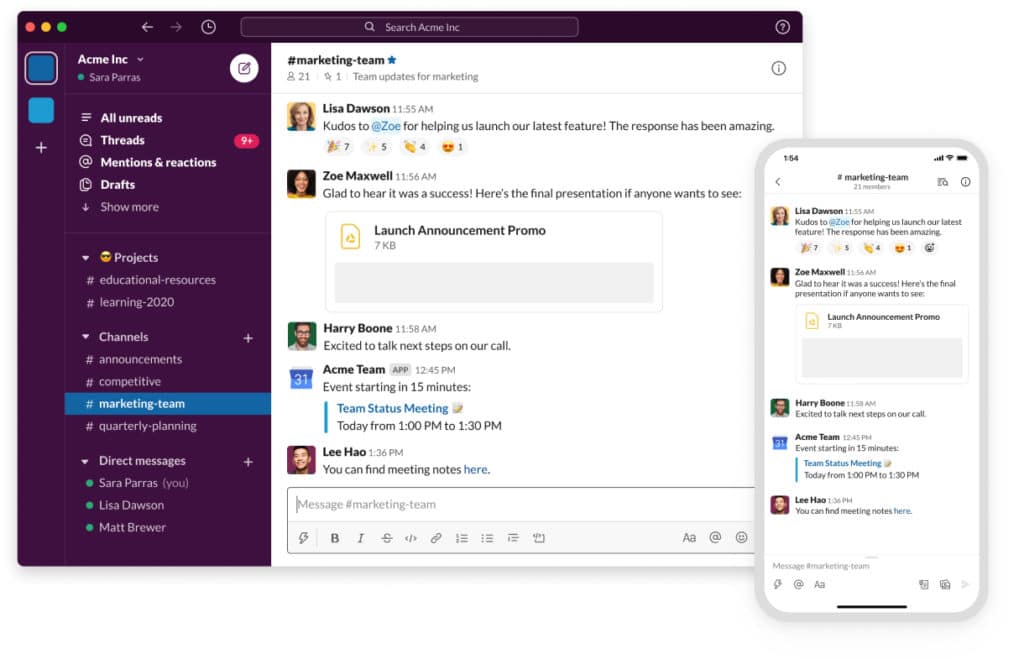 Slack's freemium plan offers a user-friendly interface, easy setup, and smart organizational features won over many organizations.
Advantages:
Channel-based messaging
1-on-1 audio call (limit to 15 participants)
Customized notifications by keywords, mentions, or time.
RSS Feed
Slack bots for task and message reminders
File sharing with high file upload limit (1 GB)
Smart indexes to past conversations and files
Conversation threads
Integrations into essentially every workflow and application on Earth (1500+), but there is a 10-integrations limit.
Disadvantages:
No screen-sharing, video-conferencing, or guest accounts in freemium plan
Limited shared storage space (5 GB) and message history (10,000 messages). Of course, this depends on whether not you want to keep your files and messages, for security reasons.
Discord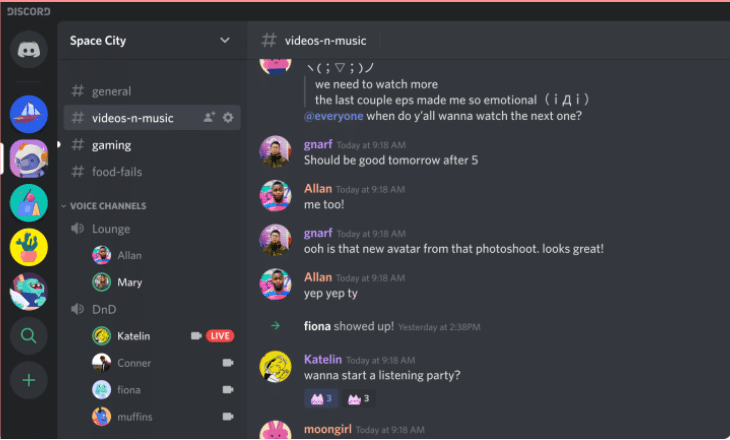 Discord is originally used and widely popular with the gaming community, but recently, it's been used by developers and businesses as well. We can see why because it is truly a unicorn with a wide range of capabilities.
Advantages:
Channel-based messaging
Video conferencing
Screen sharing
Push-to-talk voice-based channels. Basically, it means that whenever you want to have a quick discussion with your colleagues, you can hop into their voice-based channels and have a chat.
No pay per user
Unlimited storage space and message history.
High-quality and low latency audio. Since it was initially made for gamers who need lag-free voice chat to communicate with each other.
Discord Bots that enable users to play games with each other, which is great for team building!
Disadvantages:
No conversation threads! This might be a big deal breaker for many companies, because threads are essential for keeping conversations relevant and organized. One way to go around this issue is by quoting people, but it's just not as nice to look at as threads.
Low file sharing limits (8 MB, which can give you trouble uploading a video file).
Lack of integrations to industry-standard software.
No guest accounts, which means it would be hard to invite your (potential) clients to join your company's private channels.
Google Chat & Meet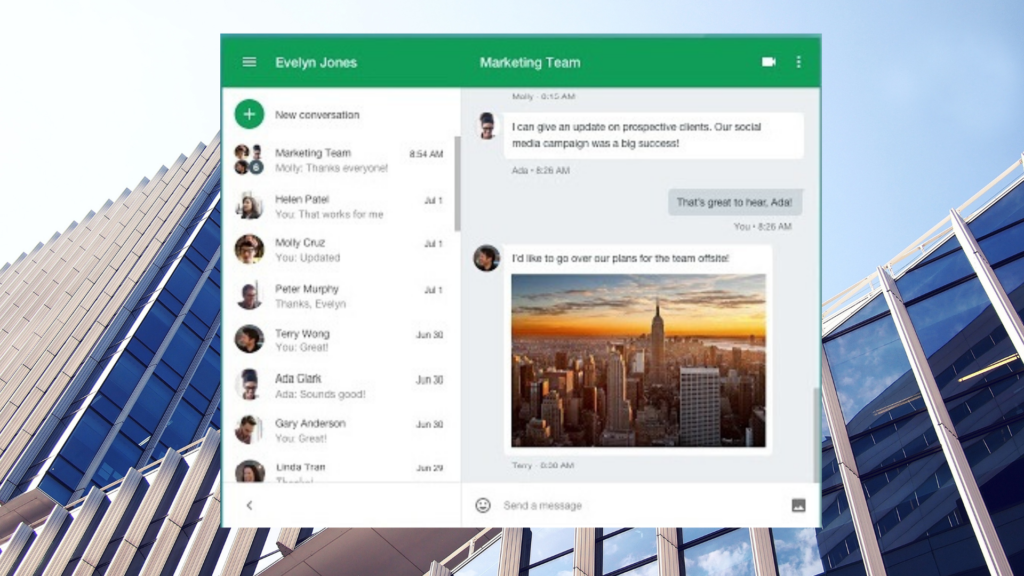 Google Chat and Meet are part of Google Workplace (formerly G Suite), which does not include a freemium plan. But if your entire business is already running on Google, why not give these tools a spin? Even though these tools come together, Google Chat is relatively unknown compared to its alternatives.
Advantages:
Channel-based messaging
Voice/video conferencing (Google Meet, up to 100 participants). Until March 2021, Google won't impose the 60-minutes meeting limit
Screen sharing
Integration with Google Workplace and 50+ other applications
Smart reply (much like the automatic suggestion in Gmail)
Other useful features in Google Meet include virtual background, breakout rooms (split into smaller group discussions), polls, and Q&A (give people an easy way to ask questions)
Disadvantages:
No recording (available in Enterprise package)
Conversations are based exclusively on threads. Depending on your company's chatting culture, this can be a pro or con.
Microsoft Teams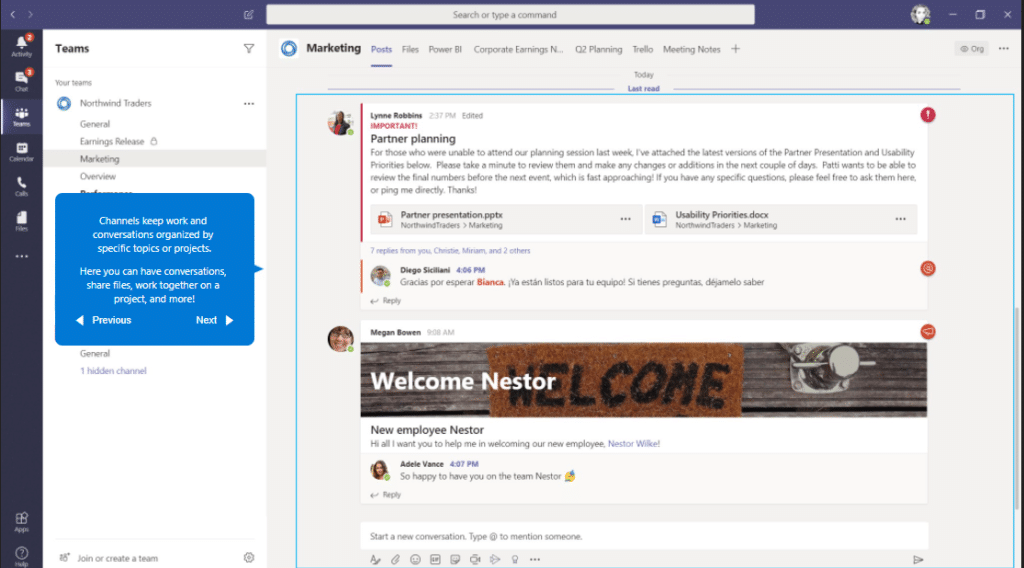 Microsoft Teams is enterprise-grade, and has more comprehensive features, which makes the administrative process more complex. There are more tools within the same applications, so they are not simply a messaging app
Advantages:
Tight integration with Office 365 and 650+ other applications
Ability to compartmentalize conversations and organize them by specific topics or projects in a channel
Automatic text translations
Voice/video conferencing
Screen sharing
"Seen" tracking.
Create a new channel from scratch or from an existing template.
Other things that are nice to have: shared virtual whiteboard and the "together mode", which is a shared background that makes it feel like you're all in the same room.
Disadvantages:
Up until the pandemic, Microsoft Teams's meetings have a 60-minutes limit and allow 100 participants at a time. At the moment, it has been upgraded to 24 hours and 300 participants, but we're not certain how long this upgrade will last.
Storage space: only 2 GB per individual user and 10GB of shared storage.
Glip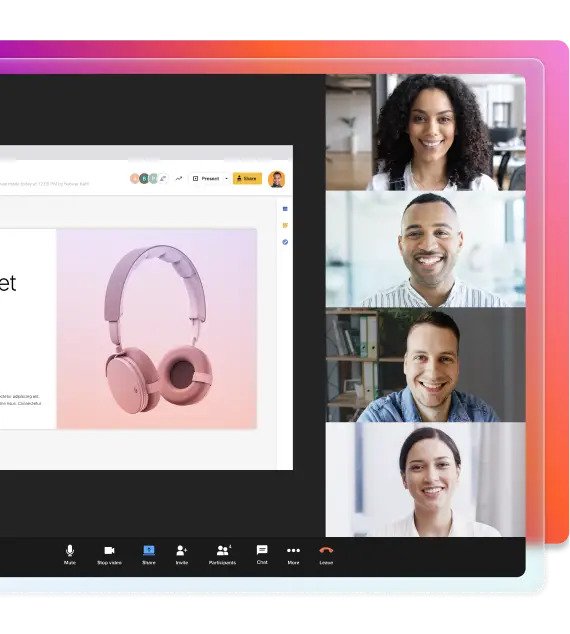 Glip was made to incorporate communication and project management and maximize productivity. It may fall short from Microsoft Teams in terms of enterprise functionalities. However, Glip will give all the other tools a run for their money thanks to its many new and refreshing features that will greatly benefit your business.
Advantages:
Channel-based messaging
Activity/News feed
Video recording! (the free version allows up to 10 hours of recording and storing them for 7 days)
Video conferencing (24 hour meeting duration and host up to 100 participants)
Host controls (waiting room, mute all, participant control)
Unlimited meetings
Screen-sharing
Switch meeting between devices with one click
Manage schedule, files, and tasks with Glip's project management tools
Disadvantages:
Can host up to only 200 participants
Glip's project management tools may be suitable for smaller projects
Notification settings may be subpar compared to other applications
Zoom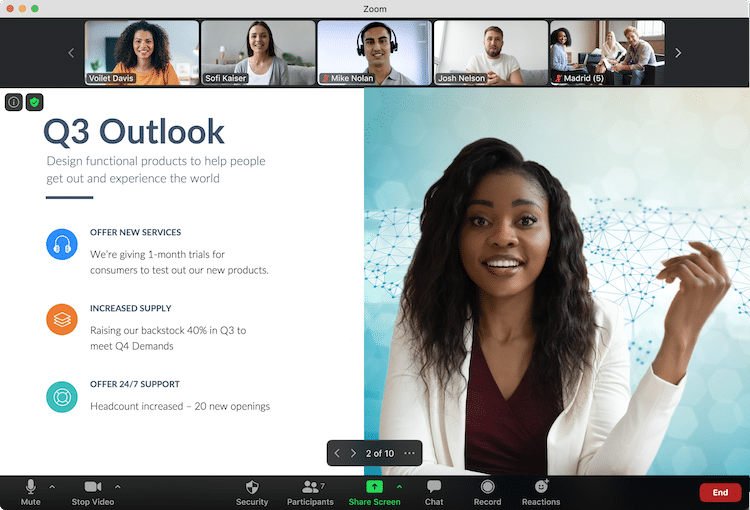 Advantages:
Up to 100 participants in a meeting.
Security features: host control, password-encrypted meetings, and waiting room
Group and private chat (during the same meeting).
Recording (saved to your local server, Zoom cloud is available in paid plans)
Stable connections and better video quality.
Other tools that are nice to have include breakout rooms, virtual background, virtual whiteboard, and polls.
Disadvantages: group meeting duration is limited to 40 minutes. Many users have trouble with setting up Zoom and joining meetings. It's unclear whether or not the app has to be installed if one wants to join a meeting. Well, we're here to clear it up: it depends on how the meeting host has set it.
Screen Recording
Because many video conferencing tools are lacking the screen-recording capabilities, we want to introduce three of our favorite software, such as OBS Studio, Apowersoft, and NCH Software.
OBS Studio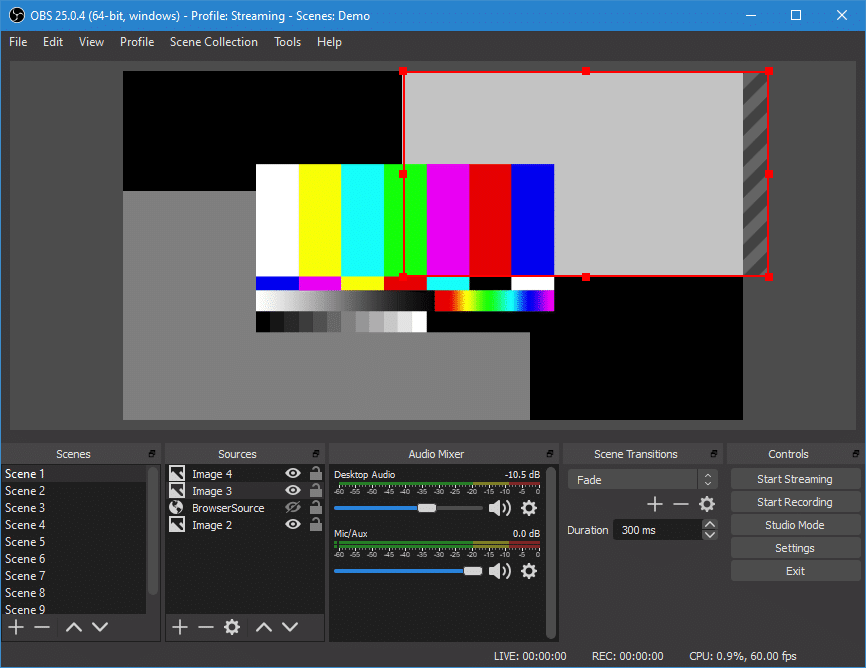 OBS Studio is a two-in.one video recording and editing software. It is very popular with gamers thanks to its ability to live stream videos and record directly from graphic cards, resulting in high-quality videos. For business use, you'll find this tool quite sufficient.
Advantages:
HD video recording or live streaming to popular streaming services (Facebook Live, Youtube Live, Twitch, etc.)
No time limit on video
Can record and input components from various sources: window captures, images, text, browser windows, webcams, capture cards and more.
Set hot keys for different actions
Comprehensive editing features: trimming, flexible clip arrangements and compilations, custom transitions, audio mixer and a wide range of configuration options.
Disadvantages:
Very little guidance
The UI can seem intimidating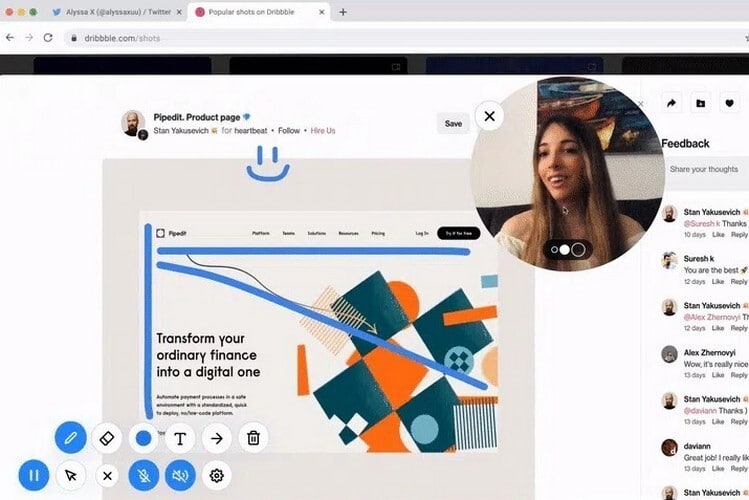 If you think OBS Studio is too complex and fancy for you, try Screenity. It is a Chrome extension that allows you to capture, annotate, edit, and more. The tool was originally made for education purposes, such as giving contextual feedback and detailed explanations to students. But we see high potential in incorporating Screenity into your business use as well, like making a product demo for your prospective clients.
Advantages:
Quick set up, no sign in
Unlimited recordings with audio
Annotation features: draw, add arrows, or text to your videos
Editing features: trim or remove sections of your recording, highlight or hide your cursor
Individual microphone & system audio controls, and push to talk
Custom countdown, hide controls, & many more customization options
Export as mp4, gif, & webm, or save the video directly to Google Drive
Upload to Google Drive
Disadvantages:
Only available in Chrome (as of now)
There are still a few bugs and glitches that need to be fixed, because this is a newly launched tool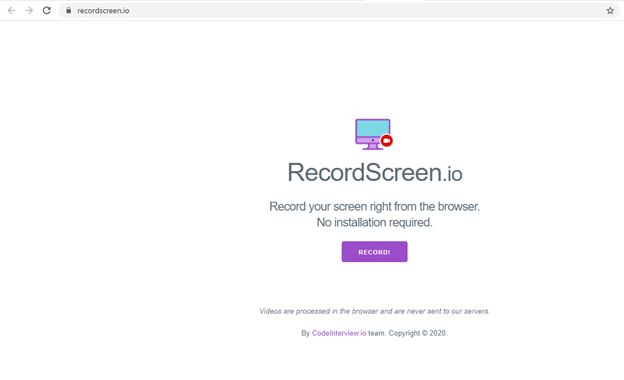 If your only objective is to quickly record your screen, then perhaps Recordscreen.io is your tool. This is a very simple and straight-forward tool, you'll only have to go to the website and hit record. We tried it out and it literally took only a few clicks for you to get the recording running.
Advantages:
Quick and easy screen recording from your browser (no installation, no registration)
Record from your screen, webcam, and audio
No time limit on video
No watermark
Download your video right away
Disadvantages:
The only video format is Webm (but there's a lot of free video converting tools out there!)
No timer button, you might need to cut out unnecessary parts by yourself
No editing
Team building
Before we go on with our free picks, we would like to remind you that Discord does have many game integrations for your team-building needs. So if you're thinking about using the tool, or already using it for communication purposes, make sure to try the gaming features! Without further ado, let's dive right into these team building tools that will help your team get closer even during the pandemic.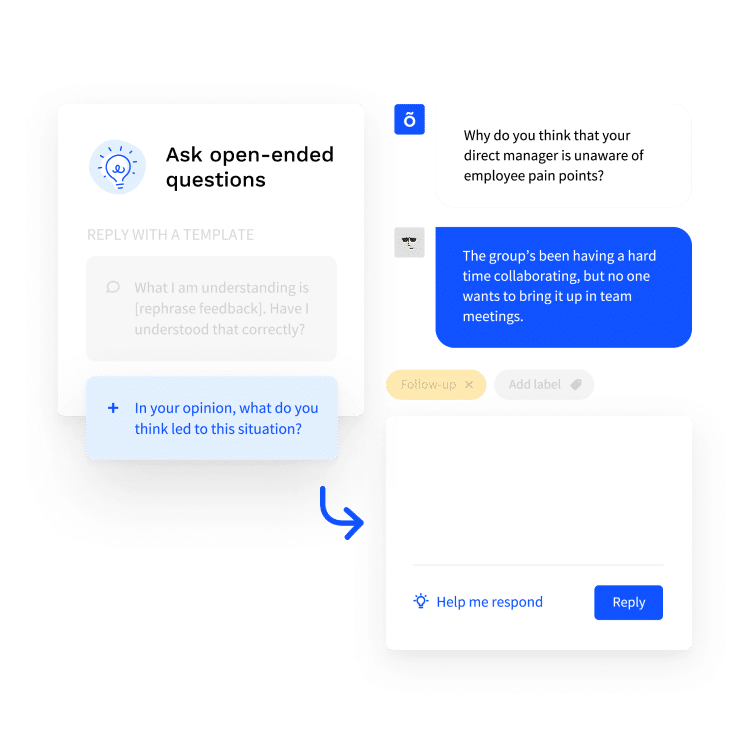 Working remotely can limit your chance to openly share your opinions. Officevibe helps your company understand your employees better by providing a safe space to share honest feedback.
Advantages:
Pulse survey: 10 key metrics to help you create relevant questions and track results, weekly anonymous surveys and anonymous feedback
Manager tools: pollings, respond to feedback, track team trends to measure your outcome, track compare and benchmark results with other teams.
Master 1-on-1s tools: build agenda together, conversation engine to drive productive conversations, align individual goals with team goals, and set action items.
Recap notes and automated follow-ups
Slack integration
Disadvantages:
Pulse survey's questions are not customizable, sometimes they are not relevant to a certain type of company and can get repetitive (the questions are randomized)
The Pulse survey needs a bigger group to get accurate data and for feedback to stay anonymous
Donut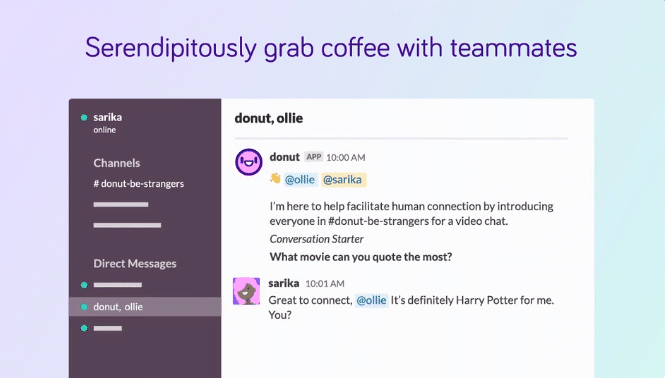 Donut is a Slack integration that helps increase your employees' bonding time and relationships. For remote teams or during the pandemic, Donut can be used to introduce new hires, initiate coffee breaks for employees from different departments, or if your organization is small, you'll have the chance to get to know the CEO.
Advantages:
Face-to-face meetings with people you haven't worked with before
Daily conversations prompts and reminders in the channels
A roulette system that randomly matches you with another person
Automatically welcome new teammates and invite them to join your Donut channel(s)
Schedule meetings seamlessly via Slack using our Google Calendar and Zoom integrations
Disadvantages:
Pair up to 24 users per round in only 1 channel
No detailed reporting on the free version
Setting is limited (no customized logic, group size, or intro messages)
Houseparty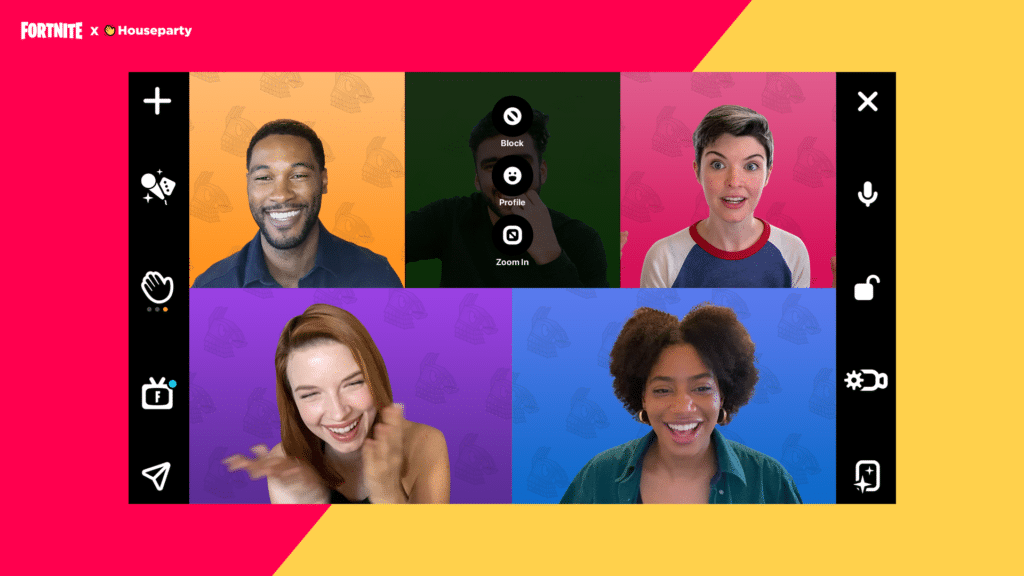 Houseparty is a popular video-chatting app with gaming features. It has been all the rage not only in the US but also in Europe. There's even a saying that goes "Zoom by day, Houseparty by night". It is perfect for your Friday evenings where you want to have fun – an uplifting replacement when happy hours with your coworkers are no longer possible.
Advantages:
Available on iOS, Android, Mac, PC, and as a Google Chrome extension
Popular game integrations such as Heads Up!, Trivia, Quick Draw, and Chips and Guac (version of Cards against Humanity)
Infinite rooms and easily float between rooms.
Fortnite mode – cast your party into Fortnite so you can bring your friends with you while you play
Lock your rooms in private mode
Record your video chat
Disadvantages:
Limit to only 8 people per room
Spontaneous video chats and group hangouts (be selective of who you add to your friend list, who your room is open to and and make sure you're ready to be seen)