Flat Coke. People have been bouncing off your site in less than 9 seconds without ever thinking about leaving their emails, and that's why.
Your website content is as good as an opened can of Coke that has been left in Kaivopuisto for 4 days.
It's flat.
If you want to gain more emails, more customers and ultimately, more sales, we need to turn this around. This 5-step guide is just what you need to get back in the groove: to maximize lead generation with content marketing.
Let's dive in –
Step 1: Research, research, research
Exclusive market research is not ever an option, but a necessity that should initiate any marketing effort – let's say, a content marketing strategy. "Smart decisions are based on in-depth market analysis," Neil Patel, recognized as one of the top 10 marketers by Forbes, says so himself.
Building a customer persona is a key pillar in getting to know your audience, which may determine if your business is going to make it or just fall off the ledge. A customer persona is a semi-fictional character, with characteristics and traits that represent your ideal customers.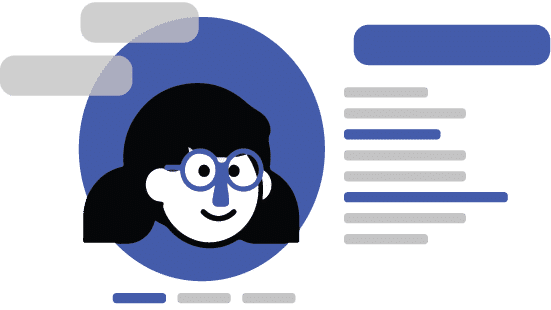 Content marketing is, before all else, putting out content that appeals to your target audience. Without a well-thought-out customer persona, you end up attracting no leads, or worst, wrong ones.
With the customer persona in mind, keyword research is a great place to start getting acquainted with the potential customers. We already discussed this particular practice and strategy in an earlier blog post. So, if you're really looking to be the Master of Keywords, I'd highly recommend you check it out.
In short, it is an SEO practice of figuring out what your target audience is searching for, and how to actually rank for those keywords.
Use keyword discovery tools like UberSuggest, SemRush or GoogleAds Keyword Planner. With Keyword Planner, sign in with your GoogleAds account to yield the most relevant results, set up desired filters, and plug into the search terms that relate to your business or offers (e.g. "web design service Helsinki", "sauna installation and maintenance").
While plucking out potential keywords, you want to practice these following pointers:
If your site is commercial (offering services or products), look for keywords with commercial intent besides search volume. If your site is to provide resources, take keywords with more informational intent.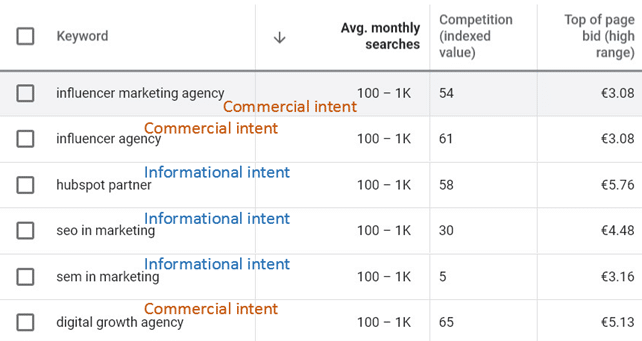 Look for that sweet spot of high search volume and low competition.
Look for keywords with high search volume, with which your top competitors have low domain authority and few backlinks.
.
Utilize the keywords to understand what concerns your target audience is looking to solve. Once you produce contents that provide solutions to the customers' concerns, you officially join the conversation and can guide traffic to your site.
It is important that keywords are incorporated in the contents to help potential leads find you on search engines.
Step 2: Create a landing page that sticks like honey
A lot of folks jump the gun when they first start out looking for leads. All the time spent worrying about steering people to their landing page… not realizing it just does not matter if the page sucks.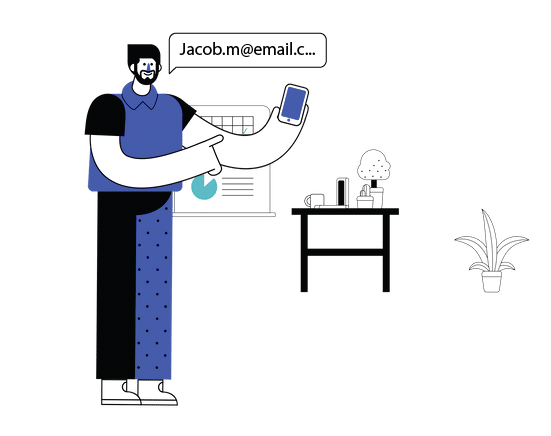 Lead generation requires a landing page. A study conducted by Marketing Sherpa suggests that nearly 70% of B2B businesses have a landing page to source leads for conversion.
This is where content can be leveraged to turbo-charge lead generation. Much like other marketing campaigns, the anatomy of a perfect landing page follows a golden rule of copywriting – it must embrace the AIDA Model:
Attention, Interest, Desire and Action.
The AIDA Model essentially outlines the decision-making flow people go through when one makes a purchase. First, you grab people's Attention. Second, you spark their Interest. Third, their interest is transformed into a Desire. Finally, you give them a nudge to take Action – e.g. drop their emails.
Allow me to give you a prime example from Hey. Hey.com simplifies email as a communication medium, and empowers users over how they read emails, sort documents and eliminate endless spams. Their landing page is an excellent example of how AIDA can be applied to create one strong, high-converting opt-in page.
Attention: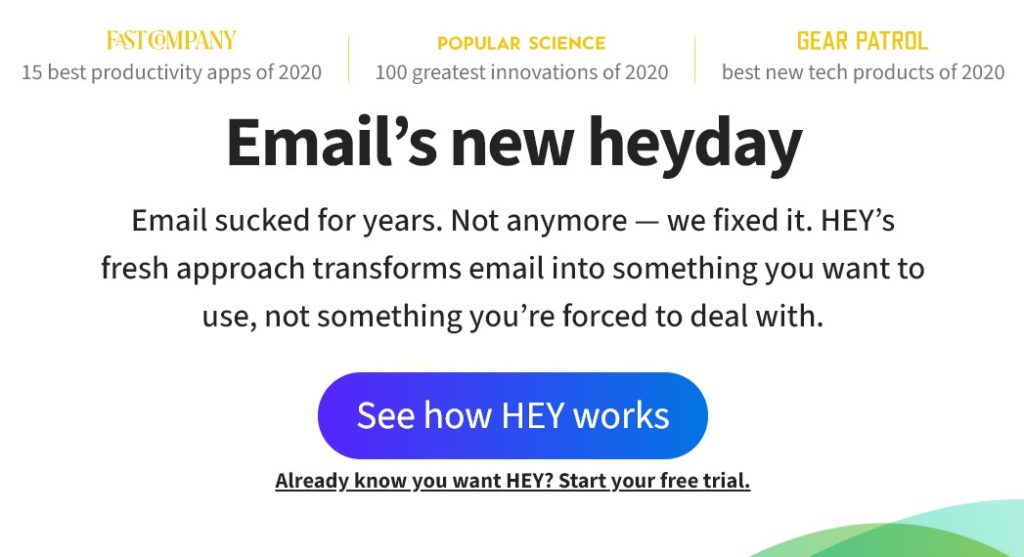 Hey grabs your attention with a concise copy for a headline: "Email's new heyday" – a sneaky play on words that amuses passers-by and steals their attention, just like that.
Your headline and imagery are the attention-grabbers here. Use something that is on-brand, authentic and relevant to your specific audience. It is not sufficient to just tickle the visitors' attention – you must steal it.
Interest:


Hey starts the conversation by resonating with people: "Email sucked for years," – they present the problem. The copy then turns from good to great with these next 3 words: we fixed it.
They pique visitors' interest, making them stay on the landing page and read further. Folks now wonder, "Sure… How did you fix it?"
Desire:


Here is where it gets interesting: they sprinkle in some rankings and sparkly awards right above the headline.
The layout diverts your attention from the headline right to the assurance. Before even telling you what the product is, they're already establishing credibility, making whatever product they are having more intriguing.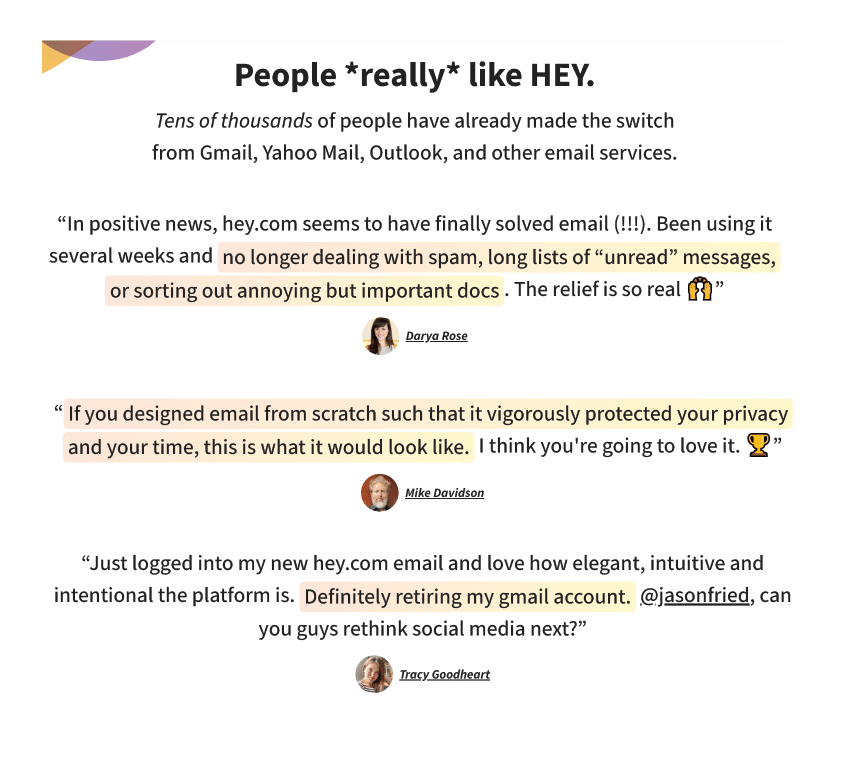 People *really* like HEY.
In case you're not sold yet, they slide in the fact that tens of thousands of people have made the switch from bigger names, among others. There are also a handful of testimonies praising some of Hey's desirable features.
Action:
After the testimonies, an animation guides you towards the desired direction: 3 simple and highly effective CTAs. Visitors can either explore a bit more of Hey, tour its 28 features, or go ahead and tap try it for free.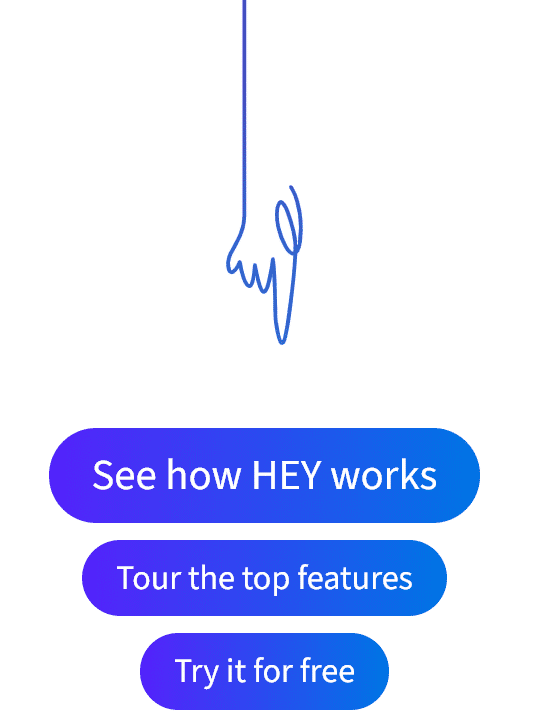 If you find yourself in need, we discuss landing pages more extensively in our step-by-step guide on building a sweet, high-converting landing page.
Step 3: Create an irresistible lead magnet
Lead magnet is a valuable resource you offer for free, which makes folks turn their heads and drop their emails in pursuit of said resources.
These magnets can take on any forms, as long as they have enough juice – be it downloadable content, consultation, demo or entertainment. Here is a crash course on literally everything you need to know about lead magnets.
Having an irresistible lead magnet is non-negotiable if you want to maximize lead generation. Some good rules of thumb where it concerns creating and presenting a lead magnet:
Be specific – your lead magnet is a real solution to a real problem of your potential leads.
Be easy to digest – figure out the most sensible mediums for your audience. Should it be a PDF checklist, a personality quiz, or a visual tutorial?
Be instantly accessible – folks appreciate instant gratification. Don't drag it on forever!
Be quick to flash your expertise – or your unique value proposition. This helps convert leads into paying customers later down the funnel.
Step 4: Make content that sells
Know what people want
One of the most fool-proof ways to identify what content your audience wants is to look at what they are already viewing. Observe visitors' behaviour, find out which type of content generates most views, has lower bounce rates and cultivates more interactions.
Google Analytics' Behaviour reports might be the next best thing since sliced bread in the world of content marketing. On the dashboard of Google Analytics, you want to go Behaviour > Site content > All pages. Total pageviews, average time on page, bounce rates and more can be found in the Overview report.
The Behaviour Flow report visualises the path folks go: what content has brought them in, where they go next and at which point, they exit the site.
Though, note that a page may receive more views not because it is the exact content people want – it may just have been promoted heavily. Nevertheless, this is a neat start to generating and developing effective content.
Tweak that boring headline
Why do catchy headlines matter?
Here's what David Ogilvy has to say regarding the topic of headlines:
"On average, five times as many people read the headline as they read the body copy. When you have written your headline, you have spent eighty cents out of your dollar."
Does Ogilvy need an introduction?
Every day, 24/7, folks are surrounded by hundreds of big, fat headlines. They see it on the 9AM news. While browsing a bookstore. Looking for a tutorial video on YouTube. Mindlessly thumbing through newspapers. As the list goes on and on, you understand why your headlines need to stand out.
4 Tactics To Sell With Your Headlines –
Highlight a problem, and hint at a brilliant solution – now, remember to include an actual solution in your content body so people don't end up considering your headlines manipulative.
Sometimes, just get to the point – unambiguous headlines that tell readers exactly what they're getting.
Listicles? Busy folks love things that are easy to scan and consume.
Promise actionable tips and fast results – of course, be sure to deliver.
Enough theory. Here are 5 headline examples that I think are just solid. See if you can identify the used tactics behind them.
How I Collected 714,000 Emails Through A Simple Quiz
Top 10 Social Media Trends In 2021 That Will Put You Ahead Of The Competition
How To Quit Your Job (Even When You're Scared Out Of Your Mind)
Ad Costs Will Continue to Skyrocket, Here's How To Fix That
How the Web Became Unreadable
Make the content worth-while
Quality content is important. Unless off-beat and random content is your brand, quality content establishes trust and credibility with customers.
Quality content gets attention. It piques people's interest and is desirable. It is ultimately why folks leave their emails, click "BUY", or go through with that cart full of items. So, make the content worth-while.
A pair of human's eyes are going to see it because your users, readers or visitors are humans, not robots in suits. When creating a piece of content, try to get people to think that you're creating only for them, and them alone.
Make it the best thing your audience sees all day. If even you wouldn't get excited or impressed, why should they be?
Is longer really better? Neil Patel believes that, for a written content, 2000 or more words perform best. Many discussions, e.g. here and here, have concluded that Google tends to rank longer, data-driven content higher than the briefer ones.
Step 5: Promotion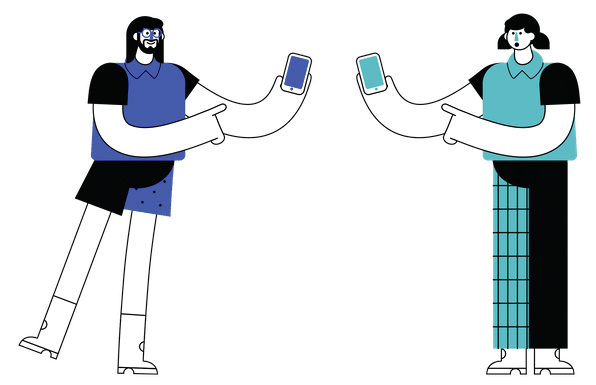 Your content can be the crème de la crème. It's still not going anywhere, nor generating any leads without proper promotion and media outreach.
While this is where most businesses fail at content marketing, we don't have to join them.
Here is a quick recommendation that can seriously promote your content's reach and leverage its lead generation rate:
All of us should be Winnie the Pooh's because the content upgrade strategy is looking like a digital honey pot right now. Made popular by Brian Dean, this strategy brought backlinko.com a 785% increase in conversions in 1 day .
Yes, 758%.
That's what you call maximizing lead generation. Nothing is stopping you from adopting this strategy right today and hopefully, bring home a somewhat similar result. The breakdown is crazy simple:
First – identify a type of juicy resource that is relevant, and would make your content better (hence, the 'upgrade'.) Example: Bonus tips, quiz template, podcast transcript, downloadable infographic, etc.
Second – create that resource, and there you have the targeted lead magnet.
Since the visitors viewing your content are already interested in the topic, the "bonus" resource now seems just appropriate. Perfect timing. Here's my email. Also take my boss's email. And my grandma's.
Content is King, and effectively-using-content-marketing-to-maximize-your-site's-lead-generation is Queen.
Lead generation is paramount when you want your brand to thrive with a solid client base that keeps on expanding. This statement holds true through industries and businesses of all sizes and scopes.
Content marketing, when implemented properly, is truly an all-encompassing strategy for gaining quality traffic, maximize lead generation and conversion.
This 5-step guide to turbo-charge your lead generation rate is a great canvas – one that you can stretch, simplify or rough up to adapt to your own business and goals. Here is its outline:
Research, research, research
Create a landing page that sticks like honey
Create an irresistible lead magnet
Make content that sells
Promotion
If you have enjoyed this week's blog, and think your brand needs some stellar content marketing to boost lead generation (but don't feel like doing it yourself or alone) – let us at Sisu Digital lend you a hand. We specialise not only in B2B Lead Generation, but also in Content Marketing, Copywriting, Web Design and Maintenance.
Not seeing what's right for your business at the moment? Contact us here to set up consultation, or join our email list to receive more marketing golds like this (reserved strictly for those who are looking to grow, optimize and upgrade.)