Is the world of SEO new to you? Bumping into the concept of keyword research but not knowing how to start? This article is for you, as we will explain all the important concepts you need to know to find the best keyword for your SEO plan.
The guide covers
The fundamentals of keyword research
Where to find keyword idea
How to choose the right keyword
Bonus tips and strategies
The fundamentals of keyword research
Why keyword research is important
SEO keyword refers to a phrase/term that people use in search engines. When you optimize your content around those keywords, your website will rank higher for those terms. Facts proved that, in SEO, keyword research is the most important, valuable activity which impacts every other SEO task. Keyword research offers an insight into customer's behaviors: what people are searching for and how. Keyword research brings the direction for SEO activities on where to go and what to avoid.
The search engine, like Google, is evolving all the time to provide the best results for users. Google not only provides the information that the user is looking for but also predicts the intention behind the search. For instance, Google notices that the search query on "computer" is followed by a large number of search queries on "where to buy computers online". It means people who search for the term "computer" are not just looking for the definition of computer, they probably want to buy one online. In this case, the e-commerce pages that are well optimized for the phrase "computer" will potentially rank well on Google for the term "where to buy computer online", even when the phrase "where to buy computer online" does not exactly appear on the site.
That being said, having the exact search phrase is not as important as understanding the intention behind the search. The keyword research process is not all about finding the exact word, but also understanding what the customers really want and producing high-quality content to serve that need.
How customer conduct research on the internet
Stages of search
The user's search query can be categorized based on the customer's stages of the search.

Stages of search present the progress from general interest to a specific option. Nick wants to have a computer. He starts the search with the keyword "good computer to buy". After evaluating all options, he realizes that he needs a laptop specialized in graphic design. He conducts a new search for "a laptop for designers". After repeating the process a few times and gradually purifying the options, Nick knows exactly which laptop to get. At this stage, Nick continues the search for an exact brand and model to buy. All search queries Nick used during the process can be categorized as below: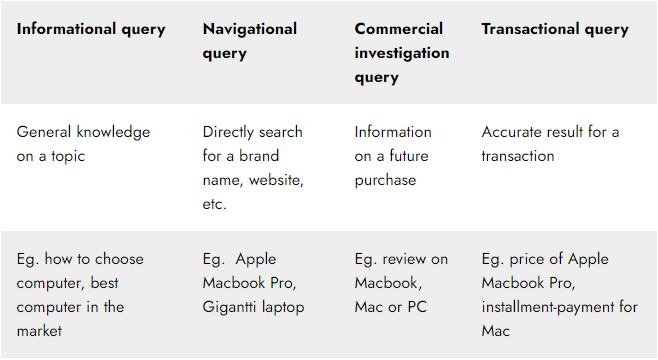 SEO visibility is necessary at any stage of the search, particularly beneficial at the purchase stage when the customer actively searches to buy a product/service. However, focusing your keyword only on the transactional query will limit your reach. At the evaluation and preference stage, SEO visibility helps a customer to recognize and remember your site, which possibly can convert to purchase action later.
Building customer persona
Creating a customer persona is a very important step in keyword research. Unfortunately, many people tend to ignore it and jump right into creating the keyword list. There are two reasons why you definitely want to avoid this mistake.
First, people spend most of their time on the internet not searching for exactly what you are selling. A person who wants to buy a guitar not only searches for one specific guitar. He also spends time on how to play guitar, how to repair strings, guitar player group discussion, etc. An understanding of customer persona is a key to knowing how your targeted client is spending time on the internet.
The second reason is that there are factors that impact the vocabulary of people using the internet. Differences in age, region, gender will lead to a difference in language. Do you want to sell to young customers? Learn the slang they are using on the internet.
Building a customer persona is creating a person with as many details as your target customer. The more specific the persona profile is, the easier it is for you to understand the user's behaviors.
Where to find keyword idea
It is recommended to start with a large number of keyword ideas, then analyze and select the best one for your business. There are many ways to have a keyword pool and you might want to combine all approaches.
Group brainstorming
Having a brainstorming section within the team is a good way to start. You will have ideas from someone who knows about your product/service, or the one who has direct contact with customers. With the raw ideas from the brainstorming, you analyze the options further using keyword research tools.
"Search related to" section or suggested topic on search engines
The search engine itself is a good source for keyword ideas. Typing the keyword in your mind to Google, you will get a list of potential keywords in the "Search related to" section at the bottom of the result page. You click on one of the results, continue scrolling to the "Search related to" section and you have another list of words.

Suggestion or autocomplete function of Google and YouTube is also a great source for terms that people are indeed searching for.

Search with * (asterisk character) before the word will give you more combinations for your word.

Some other sites which are the great source for ideas are Wikipedia, Reddit, and forums/group discussion. The group discussion is very useful to know exactly which problem your target customer concerns about.
Keyword research tools
There are a lot of SEO keyword research tools available on the market. They do not only give you keyword suggestions but also evaluate those words. It is important to choose the most reliable tool which collects data from your target audience. The popular sites/tools in the market to be mentioned are Google Trends, Google Keyword Planner, Ubersuggest, SEMrush, Ahrefs, Alexa, SimilarWeb, Followerwonk, ExplodingTopics.com, Keyword Surfer…Let us know if you need a detailed guide on those tools. There are pros and cons in each tool, on which we will give a short comparison among the most popular ones in the market.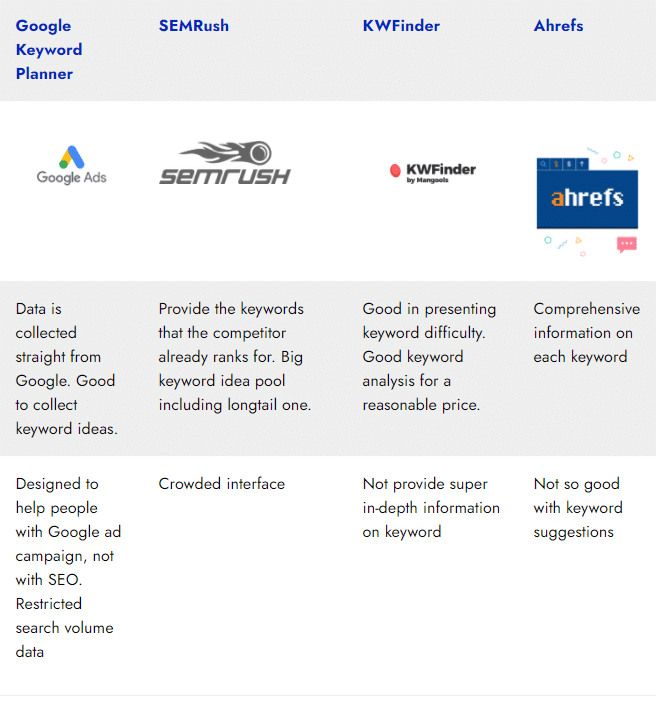 Google Keyword Planner is a good start for SEO beginners. KWFinder is perfect for its price, suitable for SMEs, entrepreneurs. If you take SEO seriously, SEMRush and Ahrefs are the musts. It might take some time for you to get used to and pick the best tools. To begin, it is essential to understand which info you need, from these tools, to choose the right keyword.
How to choose the right keyword
Keyword difficulty
Keyword difficulty refers to how difficult it is to rank in Google's organic search results for that specific phrase. You want to have a keyword without a lot of competition, so there is a higher chance for your site to get a better ranking. The keyword research tool can give you some numbers on a word's competition level but remember that the result is not 100% accurate.
Keyword types
Based on the length, keywords can be divided into three groups.
Head term: single-word keyword. This type of keyword is easy to find with high search volume but also highly competitive. Eg. shoes.
Body keyword: 2-3 words phrase. It is more specific than the head term with decent search volume. Eg. hiking shoes.
Long-tail keyword: long, more than 3 words phrase. This type of keyword is very specific and has low competition. Eg. best hiking shoes for women.
A long-tail keyword is proven to lead to a high conversion rate. With weak competition, a long-tail keyword is ideal for SEO visibility, especially for new and small businesses. But this type of keyword is also harder to identify compared to head term or body keyword.
Search volume
The search volume of a keyword is the statistic on how many people search for that word. You want to have a keyword with a strong search volume. Remember how search volume is considered weak or strong in each industry is different, so have an overview of the market before making any judgment. A keyword with high search volumes normally equals high competition, so your site will need more effort to get a higher ranking.
Trending
You want to have a trending keyword that attracts people. The keyword trend is changing over time and by geography, so make sure to choose the current trending one, which is growing in popularity at the time, not an about-to-disappear one.
Relevance
There is no point in having a trending keyword that has nothing related to your page's content. As explained above, Google tends to show results based on the user's intention behind the query. Your content will only rank for a keyword if it truly serves the user's need.
CPC (Cost per click)
The cost per click indicator tells you whether people, who search for that keyword, spend money or not? If a keyword has a good search volume but does not lead to a transaction, it is not a good idea to invest in it. You want to have an earning potential keyword that can bring a good conversion rate.
Seasonal fluctuations in keyword demand
One important note in the keyword research process is that the use of keywords varies significantly over time. Remember to take this factor into consideration in your strategy. Every year, the number of search queries for "swimwear" gets higher before and during summer and decreases in the cold season. Or the search for gifts is high in the holiday season, not all the time during the year. Understanding the patterns, you will have a good preparation for those seasonal trending keywords.
Bonus tips and strategies
At this stage, you already found the perfect keyword for your business. Congratulations! It is recommended to re-evaluate your keyword every few months, once a quarter for example. That way you can make sure to always have a trending, well-performed keyword. What you want to do next is having a good strategy to optimize that keyword. Here are some tactics you can put into use right away.
Producing high-quality content around the keyword
Google prefers long, detailed content since it wants to give the best searching result to users. High-quality content brings valuable information and is enjoyable to consume. Moreover, your site can get a better ranking if you can provide unique content that brings something new to the market. It is not an easy task. But all the effort putting into finding the perfect keyword is pointless if the content is not taken seriously. We have published a post about powerful copywriting, which provides useful tips in producing high-quality content.
Mentioning the keyword in the title
It can be one of the most old-school tactics for keyword optimization. And it is surely still helpful. When writing your blog post, make sure to mention your main keyword in the title, description, and in the first 100-150 words. The reason behind this is the fact that Google puts more weight on the phrase that shows up early on your page. So, it is easier for Google to recognize your content is around the given keyword if you load the keyword on the opening phrases and paragraphs.
Optimizing content around synonym and related keywords
Having the main keyword does not mean you have to stick to the exact term all the time. Optimizing your content with synonyms and closely related keywords has been proven to bring positive results. Because people can use different words and combinations in the search query, it is wise to not limit yourself to only one specific phrase.
Now you have it, the necessary guide to keyword research. The keyword research process requires a lot of work but is surely rewarding. By doing it right, you will definitely see positive results in your SEO activity.
Our guide has provided you the core knowledge to be successful in keyword research. We are happy to discuss or answer any of your questions related to the topic. Which task is the most difficult for you? Where do you need further guidance on? We have another blog about local SEO that can be interesting for you.
Check other contents on our website for more marketing insights.